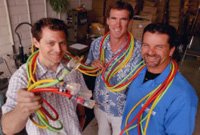 Since 1997, Fourman Industries, Inc. has been helping over 10,000 contractors, hotels, sports and entertainment venues, casinos, motion picture producers, institutions, retailers, and many other companies save more than 20% on their power extension cords.
We are committed to providing superior quality heavy duty extension cords at best-in-industry prices, and we back our products with superior quality support. We work with our customers to design a program that fits their individual needs and saves them money.
Contact us today and find out why everyone from motorsports teams to do-it-yourselfers trusts Fourman Industries for their heavy duty extension cord needs.
See what customers are saying about Fourman Industries
Donnie of Clean Line Motorsports says "We're very happy with the quality of our extension cords. The bright colors keep us from leaving them behind when we move from racetrack to racetrack. The custom print is very classy."

Kim from K2 Construction notes that "Since using Fourman's customized extension cords, we don't seem to go through nearly as many. We're not leaving them behind and no one else is walking off with them."

And Lenihans Lumber tells us "All the cords we sell now say 'thanks' to our customers and keep our name in front of them. It makes a great, simple promotion."